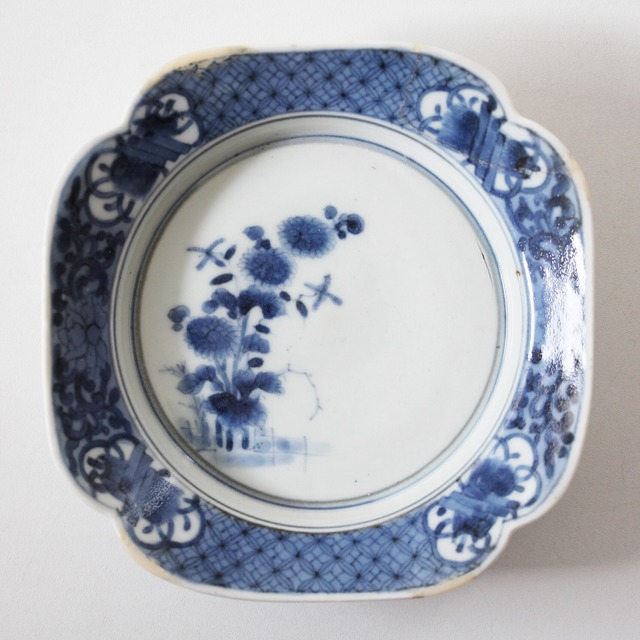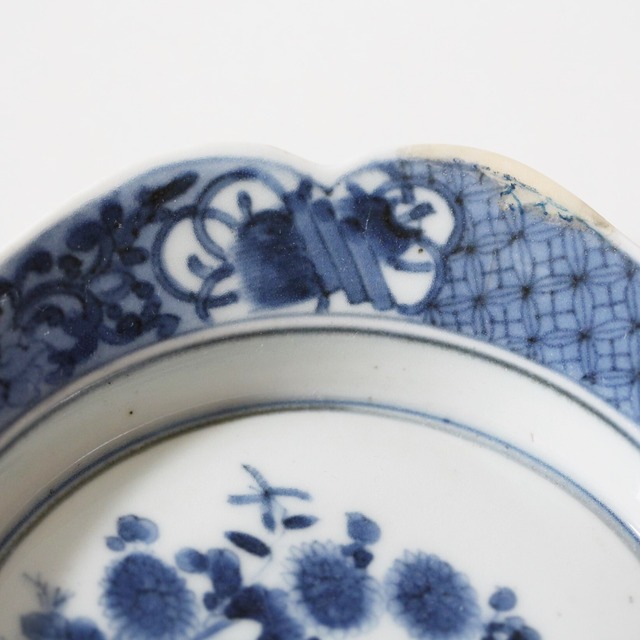 補修のある古伊万里染付菊文隅入角皿 d14.2cm Restored Imari Blue and White Square Dish with Chrysanthemums Design 17th C
¥7,000 tax included
the last one
*Earliest delivery date is 3/25(Sat) (may require more days depending on delivery address).
Shipping fee is not included. More information.
菊の花。
割れ欠けがあっても失われることのない気品を感じていただければと思います。

薄瑠璃のダミがほどこされた口縁は、七宝つなぎや花唐草の地文、四隅の窓は宝物を描き入れています。菊と相まった吉祥尽くしのうつわです。

隅部に一か所、割れを接着剤による接着。
隅部が欠け、パテ系の素材を用いて補修されています。補修個所の一部は、青い塗料による文様が描き加えられています。
オリジナルの姿に色合いなど近付けつつも、修復箇所が一見してわかるようにという配慮のようにも思われます。

状態:口縁の割れを接着。欠けをパテ補修。高台周囲に焼成時の窯疵(表面に貫通せず)
水漏れ:なし
径 14.2×13.9cm
高さ 3.2cm
重さ 約169g

磁器
日本・有田
江戸時代中期 17世紀

A charming blue and white porcelain square plate with chrysanthemums design.
Damaged and restored.

Porcelain
Arita, Japan
Middle Edo. 17th C

Condition : Restored on the corners. Kiln defects around the base.
d14.2×13.9cm
h3.2cm

We ship worldwide. Please contact us for overseas shipping.
Add to Like via app
Reviews

(2)

Shipping method / fee

Payment method